DEMOLITION SERVICES
Concrete Cutters, Inc. offers concrete demolition and removal services. Our trained and experienced workforce takes traditional concrete removal methods to the next level.
For concrete removal projects like the removal of patios, foundations, and pavement; hand-held or boom mounted pneumatic and hydraulic breakers are currently the tool of choice for these concrete demolition projects. The amount of work necessary to accomplish the demolition using these methods depends on the hammer size, strength of the concrete, the amount of steel reinforcement used in the concrete, and the working conditions. This may not be the most effective and efficient method of demolition.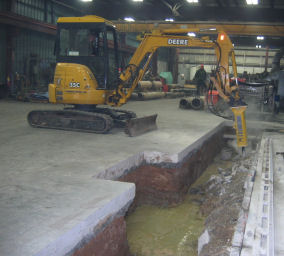 By cutting concrete elements into smaller pieces, and then removing them by crane, the demolition of an entire concrete structure may be carried out with a minimum of noise, dust, and impact on surrounding structures.
Let the trained, quality oriented team from Concrete Cutters, Inc. handle your next concrete demolition project.
---
UNIQUE PROJECTS
Contact us if you have a unique concrete cutting project that you want finished. If it is concrete, we can cut it!
Contact us for a Free Estimate!